Press
Outside Magazine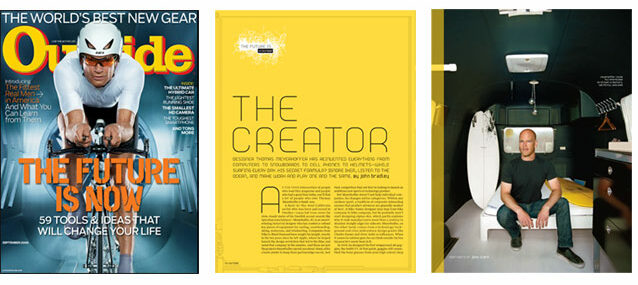 Designer Thomas Meyerhoffer has reinvented everything from computers to snowboards to cell phones to helmets – while surfing every day, his secret formula? Ignore IKEA, Listen to the ocean, and make work and play one and the same.

By John Bradley
Blue – The Craftmanship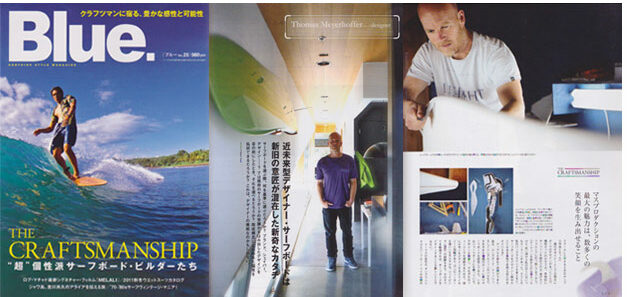 Case Da Abitare – A man with dreams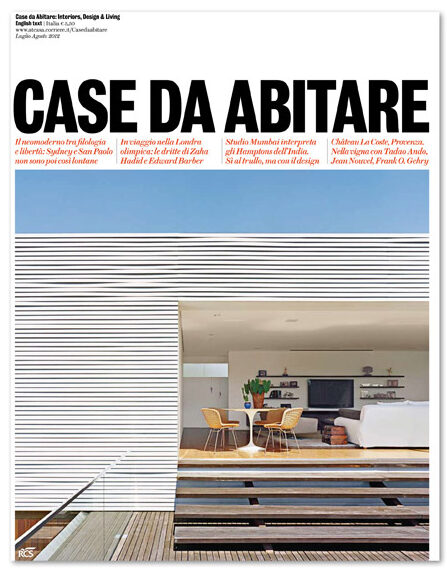 Thomas Meyerhoffer used to work at Apple, designing the ancestor of the iMac, until one day he discovered "there's so much to do out there" and left. Now he's a stone's throw from the sea in California, rewriting the future of sports equipment. And more.
Catch a wave: Thomas Meyerhoffer has been riding the surf at different times every day since the start of the 90's, depending on the tide. As a sport of course, but also as a profession or, to put it better, a profession as a passion.
This is how it happened: Born in Stockholm. In the mid 1990s he arrived at Apple, where he worked alongside Jonathan Ive and led the team that designed the eMate, a forerunner of the iMac. In 1998 he dropped it all and set up on his own in a studio on the beach near San Francisco.
There he worked for international brands like Coca-Cola, The North Face, Nike, Black Diamond, and Capellini, with a predilection for the field of sport, designing glasses that can be worn with a helmet (he was the first to do this), and hourglass-shaped surfboards that forever altered the aesthetics of water boards, won prizes, and is appreciated all over the world
Mens Journal – The Hybrid Surfboard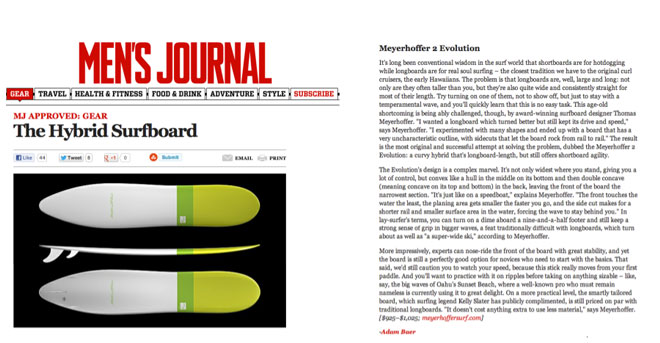 More impressivly, experts can nose ride wth great stability, and yet the board is still a perfectly good option for novices who need to start with the basics.
That said, we'd still caution you to watch your speed, because this stick really moves form your first paddle. And you'll want to practice with it before taking on anything sizeable like say, the big waves of Sunset Beach, where a well-known surfers who must remain nameless is currently using it to great delight. On a more practical lever, the smartly tailored board, which is still priced on par with traditional longboards. "it does't cost anything extra to use less material" says Meyerhoffer.
The New York Times – The 9th Annual Year In Ideas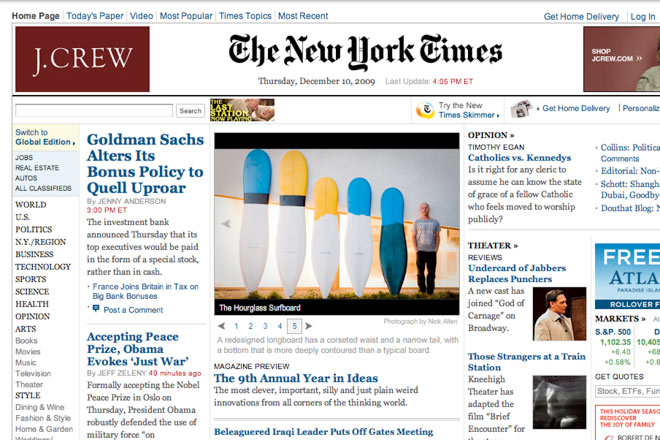 After leaving Apple in the late '90s, Meyerhoffer embraced surfing. He started with longboards but soon began wanting a more agile ride, so he tried alternatives like the fish, a shortboard with a swallowtail. None could match the momentum he felt cresting a wave with the big plank of a longboard beneath him, however. His designer's curiosity piqued, he began wondering how he could make the longboard do more.
ID Magazine – Ahead Of The Curve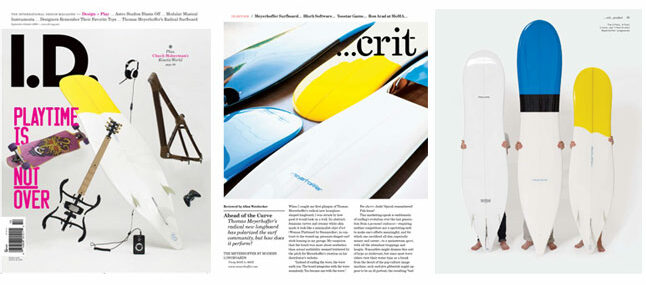 The guy who had the epiphany that led to the surfboard leash was probably a lot like Thomas Meyerhoffer. So don't discount him, his too-clean shop, or his longboard design. My advice to fellow surfers is to ignore the baggage and give the Meyerhoffer a shot.

By Alan Weisbecker