About Thomas Meyerhoffer
Thomas Meyerhoffer is one of the most innovative and influential designers of his generation. A rare breed: part designer and part innovator, his groundbreaking designs have reinvigorated and in some cases resurrected well-known brands and redefined entire product categories.
In close partnerships with known brands like Apple, Coca-Cola and Puma, or small startups, he has time after time created disruptive innovations and new product stories in an unusually broad range. From technology and sport, to furniture, fashion and objects for everyday life, Meyerhoffer brings a unique perspective to everything he creates.
Many of his designs have been runaway successes for his clients and become modern design icons. Meyerhoffer's long list of groundbreaking achievements include Apple's first translucent computer, which changed the computer as we know it forever, the first modern ski and motocross goggles, revolutionary snowboard bindings, and surfboards. Surf a Meyerhoffer surfboard, and the waves feel different. Turn on a Meyerhoffer-designed computer, and the Internet seems different. Sit on one of his chairs, and, well, you get the idea.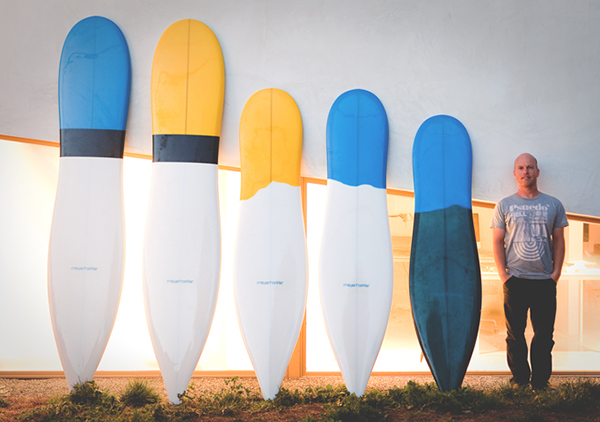 Meyerhoffer is regarded as one of the most progressive shapers in the surfing industry. His iconic longboard, possibly the most radical longboard design in a generation, has turned heads worldwide, and now his new Slip In single fin model has won "best in show" at the premier surfboard show, The Boardroom. His goal with the surfboards is to create forward-thinking surf experiences by pushing creativity, innovation and individuality in surfing and the life that surrounds it. What started out as passion has become its own path.
Working from his studio on the beach in California, Meyerhoffer has chosen to remain largely an outsider in the design world even though his work has been featured in museums and books and has been widely recognized around the world. He is the recipient of multiple international design awards and been featured in a variety of articles from The New York Times to The Surfer's Journal. Yet his products are most often found in homes, offices and garages with someone ready to experience their world in a new way.